David S. Wiener, D.D.S.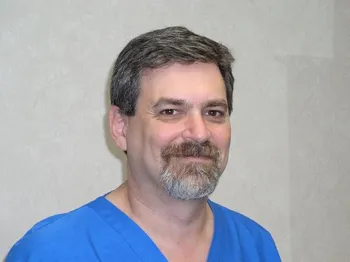 Dr. Wiener earned his D.D.S. from Medical College of Virginia, Virginia Commonwealth University, graduating near the top of his class in 1986. He continued his education with an optional year of advanced training in all phases of dentistry for both typical and special needs patients as Dental General Practice Resident at St. Charles Hospital and Rehabilitation Center. Prior to Dental School, he attended Drew University where he was elected to the Phi Beta Kappa, Psi Chi, and Beta Beta Beta honor societies. He earned his B.A., magna cum laude, from Drew in 1982.
A second generation dentist, Dr. Wiener grew up in Smithtown where his father, Dr. Marvin M. Wiener practiced from 1960, the year David was born, until his retirement in 1995. David joined the practice in 1987 and the two practiced together for nine years. The office has been at 200 East Main Street since 1965. Dr. Wiener lives in Smithtown with his wife, Sheryl. They have two children; Douglas and Stacy. When not in the office he can generally be found outdoors, preferably on a golf course or fishing in local waters.

Since he began practicing dentistry, Dr. Wiener has continually expanded his knowledge, advanced his art, and mastered new technologies and techniques through continuing educational classes. In an ever-changing profession, he is a perpetual student and frequent participant in various dental meetings, courses, and conventions. Dr. Wiener has amassed well over 1500 lecture hours of continuing education. He is a career long member of the Smithtown Dental Study Club, Suffolk County Dental Society, New York State Dental Association, and American Dental Association.